Summer camp or how our kids loose their entire wardrobe
Jul 03 2017 0 Comments Tags: back-to-school, camp, custom, name, personalization, summer, tag
Name tags and how to decrease the loss of our kid entire wardrobe during one summer!
Summer camp is a life saver for busy parents like us. Being expat on top of it, we do not have Papy or Mamy to take care of their precious grand-kids during the summer and give us the liberty to have Margaritas every night after work ... Just kidding, who does that ? (Parents with Grand-parents near by I am sure!)
Anyhow, after the rush to register on time at the best camp near the house, the one with the legos and the coolest activities, or the one that will not just ruin us in just 5 weeks, we have to re-organize the morning route, deal with our kids tantrum (how rude and ungrateful, that camp cost me a leg and you do not want to go now ? Go to my work, I go to camp, would love just to play all day instead of stressing behind my desk, if only they knew...) and still prepare the lunches.
But there is something else, something we did not know and were not prepare for... The constant loss of clothes, accessories, water bottles, shoes or simply mind for us !
How is it possible that everyday, my kid looses something and each time, the answer is " I do not remember!" 
And try to fetch anything in the lost & found box! From the socks smell to the pile of junk, it is almost impossible to find anything. Sometimes I even wonder if there is a mom that goes in there every evening as a second job and gather all the nice pieces and leave with them. I swear, how can it be, that only the Old navy sweater is retrieved while the Tinycottons or Ralph Lauren piece disappeared completely ? Is there a business in the lost and found items, I wonder...
The solution ?
Apart from a new brain for our kid, or a collar that would send an electroshock when the kid forget something behind, naming all our kids belongings is perhaps the easiest one. Not that it will prevent the loss of the sweater or the hat, but at least, they will know who it belongs to and give them to our kids right away, before the dreadful lost & found box...
The thing is I do not even do it for the return to school, so why for camps ? Because it is worst ! They move around, they go from room to room, pool to soccer field, so the probabilities of loosing something is increased dramatically !
To help you ordering some great name tags, here are some companies that will offer variants and cool designs.
CLOTHES:
 2. STICKERYOU.COM - Love everything about their site ! Check it out!
Create your own Custom Stickers, Labels, Decals, Iron Ons and Magnets! Click here!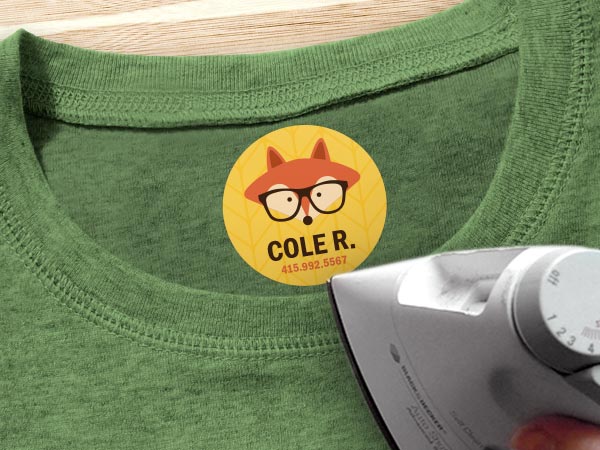 2. 
Personally, I think the iron on are the best and most reliable ones. However, the following company offer such a great variety of labels, I might opt for the No Iron - No sew! So convenient
And for the shoes ?? To help your little one also from knowing which one is right or left ? Too cute ! WATER BOTTLES/PLASTIC LUNCH BOXES:
CURRENT LABELS - Simple yet practical! 20% discount on orders
I love stationary, so I might go crazy with ordering some labels, but hey, I will breakeven or even save some money with all the items that will be not lost... !!
Mel
---
---